UPDATE: Congratulations to Lee and the entire Kittyo team. They ended their stellar Kickstarter campaign on Friday, May 23rd, raising $271,154 from 2,425 backers.
---
NOTE: Before you read this post, please go back and read last week's post, I explained exactly how Lee and the Kittyo team optimized their landing page until it eventually converted at 40-50%, well above the industry average.
The best way to build permission is to consistently deliver quality content, usually via a blog. But most crowdfunding creators haven't done that. Many crowdfunding projects are brand new ideas. So a clear, effective landing page with an obvious value proposition is critical to building permission and trust (and collecting emails.)
A high-converting landing page is the key to your success. Sending traffic to a poorly converting landing page is like pouring water in a sieve. Once you have a landing page that converts well, you can turn on the traffic faucets using the strategies below, which sent people to the optimized landing page at Kittyo.com to collect their email and let them know when Kittyo launched on Kickstarter.
Again, if you haven't read last week's post, I encourage you to go back and review it before reading on.
How Kittyo Attracted 50,000 Targeted Visitors and Gathered Over 13,000 Emails in Only 5 Months
Once the landing page was optimized, it was time to send traffic to it. Below are the strategies that worked for Lee and the Kittyo team and can help you find and drive targeted traffic to your landing page and campaign.
Focus Like a Laser
Most people love to focus on the larger media outlets – there's a thrill in seeing your name mentioned in a big name publication – but not all traffic is created equal.
A big part of Kittyo's success is that they didn't try to reach everyone but laser-focused specifically on the exact customers who would want to hear about their product. The big eyeballs and impressions offered by larger media outlets seem enticing, but they often send only "drive by traffic" that rarely results in actual customers, or even quality leads. More relevant sources will convert at a higher percentage, so if you want email opt-ins and backers, it pays to find highly targeted traffic.
Define Your Ideal Customer and Develop Your Customer Avatar
One of the best ways to make sure you're focusing on targeted traffic is to develop a "customer avatar", a detailed, hypothetical description of the ideal customer you want to reach. Broadly, Lee and the Kittyo team knew they were trying to reach "cat owners who owned smartphones", a fairly broad demographic group.
More specifically, the ideal customer also worked outside the home, was an early adopter of technology, appreciated design and had at least moderate disposable income.
That's enough detail to start developing their customer avatar.
The concept of developing a customer avatar is not new or particularly novel, but it's often overlooked or poorly executed. If you Google "customer avatar", you'll find a lot of templates. The exact template doesn't matter much. More important than the final document is the rigor used to think about specific details, needs and problems of your ideal customer. Etsy has a great blog post on how to define your ideal customer, so let's use Etsy's "ideal customer" template from that post (because Etsy is awesome.)
Kittyo's Customer Avatar
If we were to use this template to define Kittyo's customer avatar, it might look something like the following: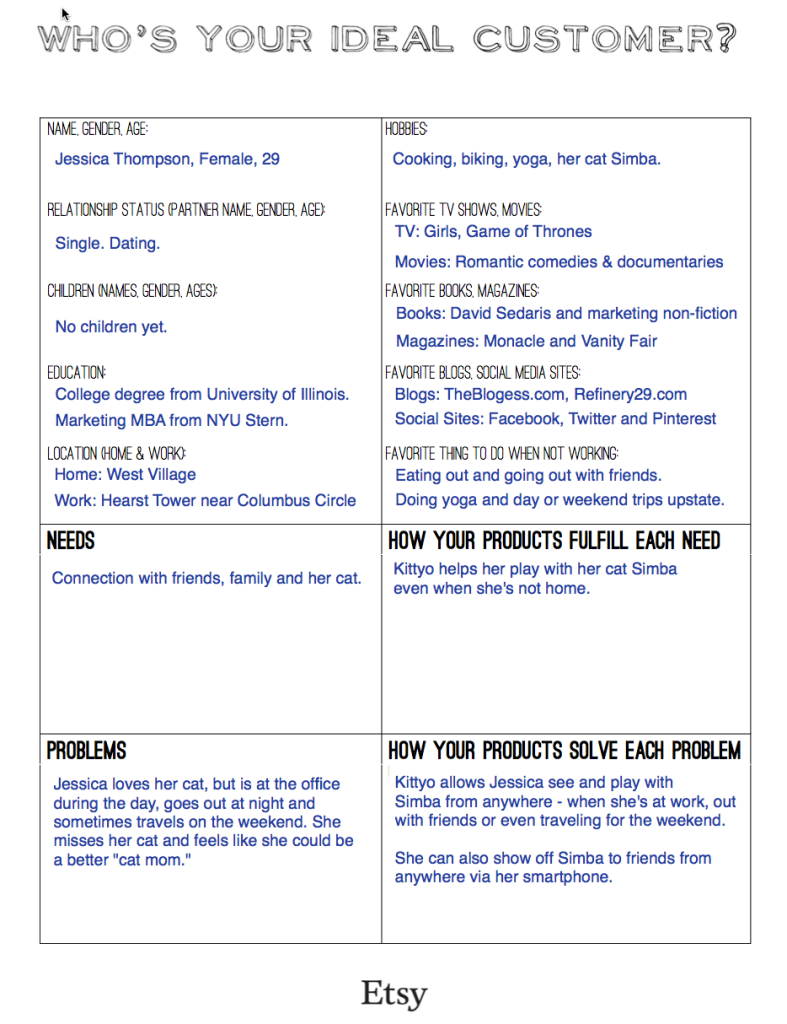 Speak Like a Human
The specificity of your customer avatar is not meant to be limiting. It's meant to help focus the messaging and keep it in a conversational, human voice.
When you talk to your best friend over dinner, you talk like a human.
When brands try to speak to everyone at once, they sound like, well, brands.
For the rest of your campaign, when you're writing the project title, video script, reward level copy, campaign description, ads, etc., pretend you're speaking to your friend Jessica over dinner. Your copy and messaging will be more human and conversational, which will not only convert better, it's more fun to write.
What Sites Does Your Customer Read? Who Do They Trust?
OK. You've decided to laser focus your outreach, you've defined a detailed customer avatar and you have committed to communicate in a human voice. The next step is to find out where they hang out online. What sites does your customer read? What sites do they buy from? Who do they trust? Make a list.
Put yourself in their shoes. This is even easier if you are somewhat similar to your target customer.
Who do they follow on Twitter? What brands do they like on Facebook? Are they active Pinterest users, or do they stick to Instagram? What Google searches would they do?
Does this take time? Absolutely. But very soon, you are going to be asking people you have never met, who have never heard of you, to give money to you, an unproven stranger, to pre-buy a product that doesn't even exist yet. 
So you owe it to your future customers to do the research to understand their needs and problems. Researching them takes time, but it's well worth it.
Start With Google and Pinterest to Find the Ideal Sites & Blogs
This is where you get to play a little CSI without the blood or rubber gloves.Your job is to identify the sites and blogs your ideal customers knows, likes and trusts.
We know Jessica (our ideal customer avatar from above) loves her cat. We knows she reads Refinery29 (which has lots of well-designed products) and uses Pinterest. So Jessica may do a simple Pinterest search for "cat design" (possibly to find new cat products for her apartment.)
If we do a Pinterest search for those keywords, it turns up some interesting products but one source site in particular kept coming up…HausPanther.com. (see screenshot below – 3 products from hauspanther circled in red)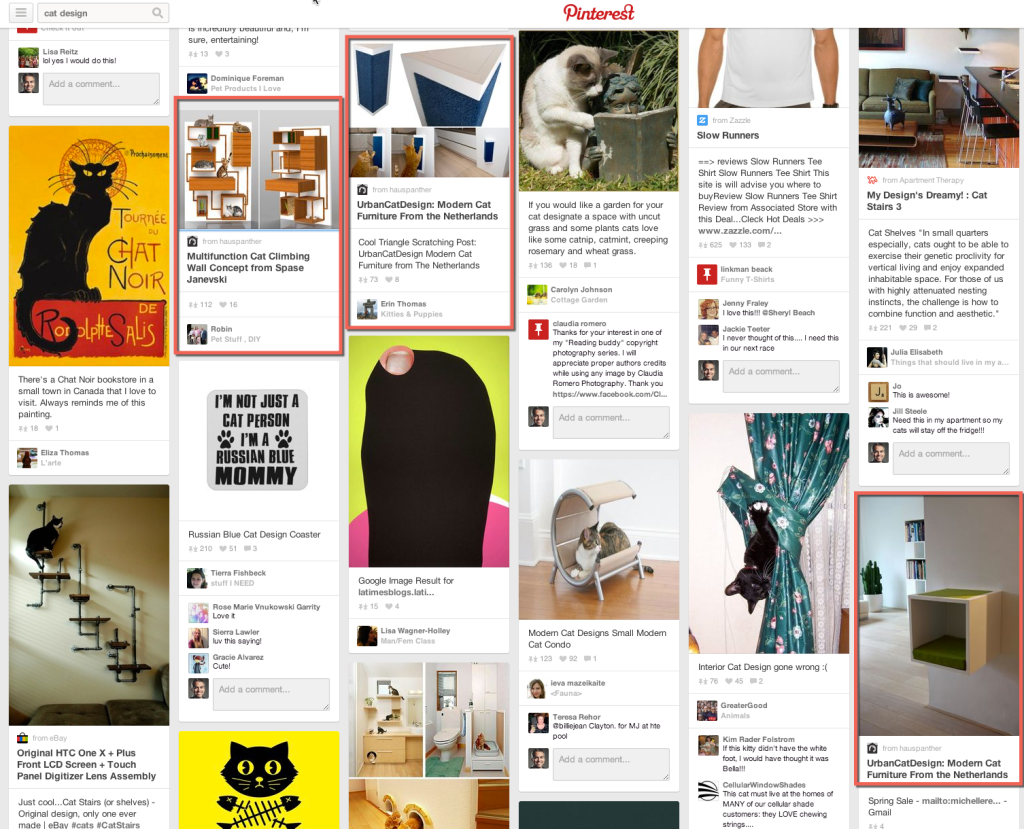 A quick review shows us that HausPanther is a site completely dedicated to Kittyo's target market.
The tagline of the site is, "The premiere online magazine for design-conscious cat people."
On the site, there are high-end, designer cat products and even a "gear guide."
Hauspanther is perfect and will convert to opt-ins much better than larger, more broadly targeted media outlets.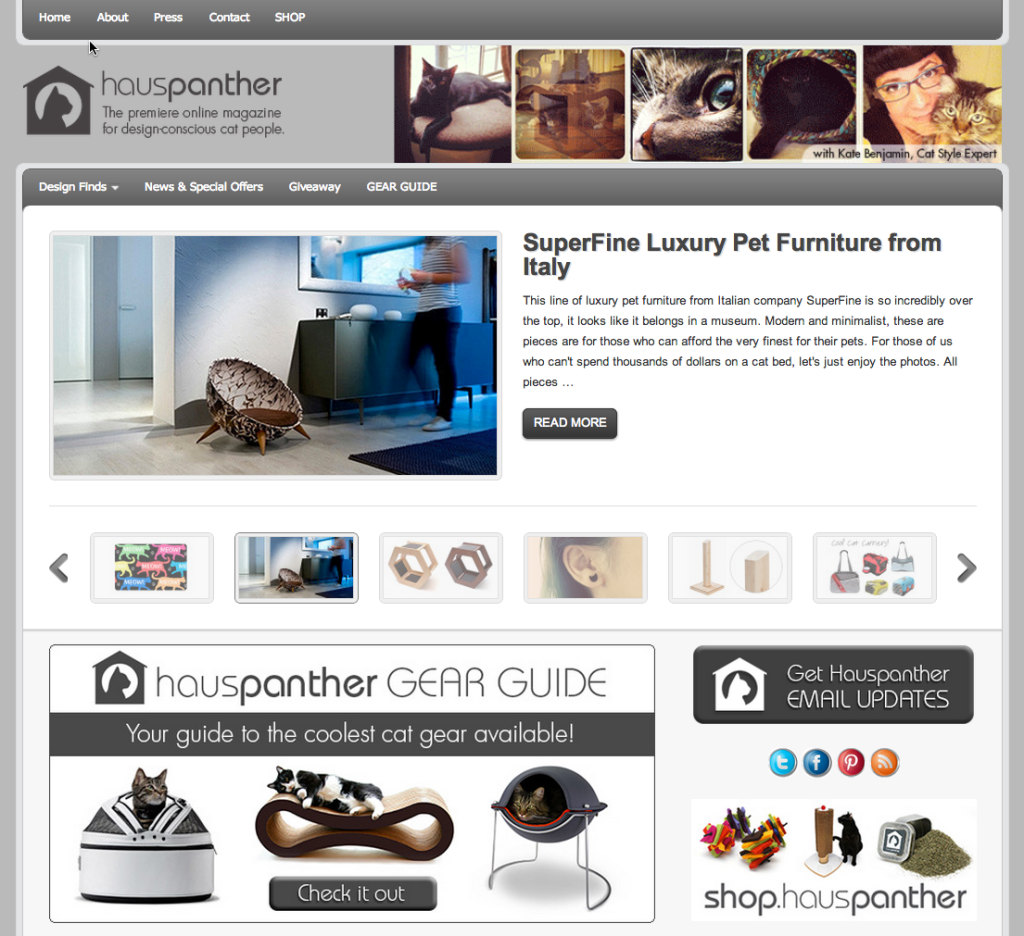 Find Similar Sites & Blogs
Once you find one "perfect" site (like HausPanther in this case), it's actually easy to find similar sites.
Tools like, SimilarSiteSearch.com, SimilarSites.com and SimilarWeb.com show you similar websites, including the types of visitors.
This step is so important, I'll expand on it in an upcoming post but just by entering HausPanther.com into those sites, Lee can generate a long list of similar cat websites and blogs to reach out to.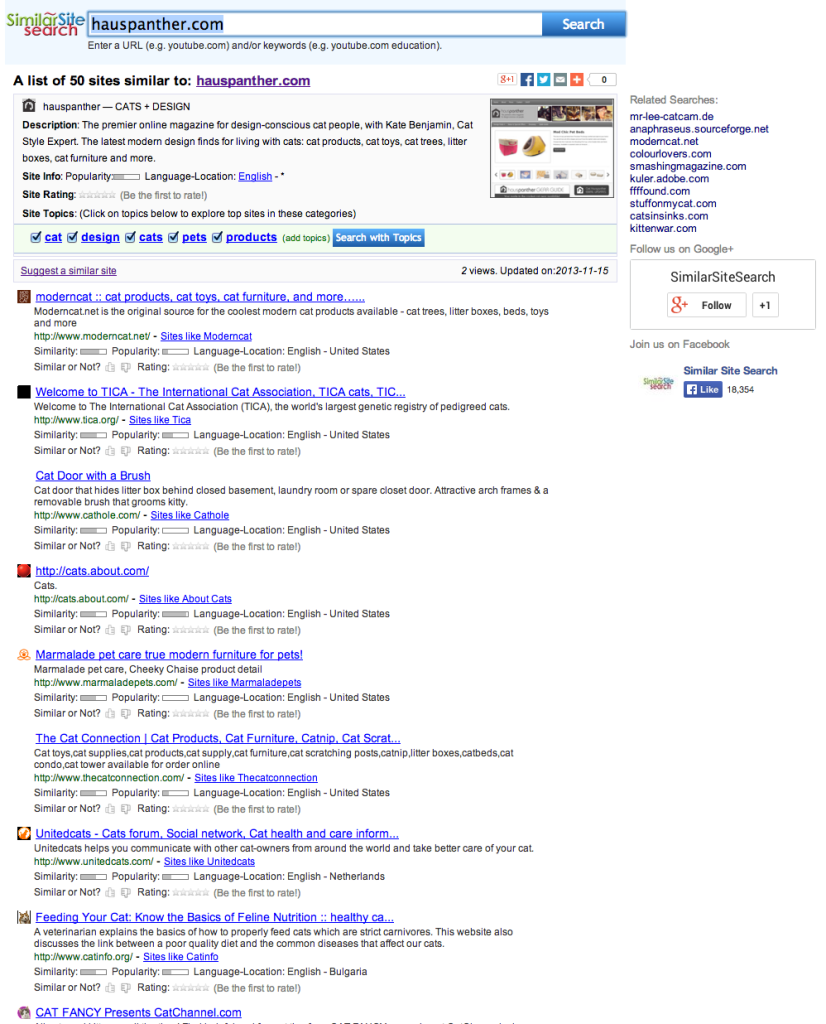 Work With Press and Bloggers to Add Value to Their Readers
Most creators approach press and bloggers in the wrong way. They assume it's all about them and their project, when it's really about adding value to the press outlet or blogger. Lee did his research and found out that HausPanther occasionally runs giveaway contests for their readers, so Lee worked with them. Over the course of five months, HausPanther covered Kittyo three different times.
The first post in announced Kittyo and teased that there would be more to come and linked to Kittyo.com to allow readers to opt-in.
The second post was one of HausPanther's regular contest giveaways where readers could win a free Kittyo unit. Again, this adds value to both HausPanther's readers and to Lee – when entering the contest, with a simple checkbox, readers could choose to opt-in to the Kittyo email list.
The third post was announcing Kittyo's Kickstarter launch on launch day.
Have a Clear, Compelling Value Proposition and a Great Headline
If you want to get covered by sites and blogs, they need a hook, an interesting reason to write about you. This hook is communicated via the headline, which often contains the key value proposition of your product.
Why is it new? Why is it interesting? Why should anyone care?
A great headline gets the reader intrigued enough that they want to read more.
Kittyo came up with the perfect headline that also communicated their value proposition. "Play with your cat. Even when you're not home."

It's the perfect headline. It speaks directly to cat owners. If playing with your cat when you're not home is interesting to you, you're intrigued enough to read more.
Engage On a Few Specific Social Media Platforms Well
In the next post, we'll outline Lee and the Kittyo team's social media strategy. We'll show how they effectively leveraged a few specific social media platforms well, instead of spreading themselves too thin across too many platforms.
Any Questions?
As always, please leave any questions or comments below and I'll try to answer as many as I can.